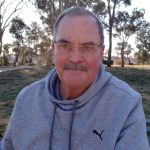 Welcome to OzVoyager.com
Thanks for visiting my site, I apologise that I no longer allow registrations or comments on this site as I was collecting too much spam mail along the way. It just takes up too much time even with automatic vetting. Should you wish to contact me for any reason respond to the email address at the bottom of the page.  As I'm now retired from the workforce I figured I'd have more time to keep this updated regularly but it seems that was a pipe dream. However I much prefer domains over social media like Facebook as I can control the whole content without advertising the way I like. While I may have some dormant accounts on social media they are only for accessing links I could not view otherwise. So it's fair to say I'm not a big fan of social media even though I'm sure it is nice for some families living distances apart. I just prefer a blog style site without being bombarded with links or suggestions especially when I add just a dash of political comment. As for the web site title, well there is a humorous twist to that. In my last employment the office was central to four large computer screens which we were seated in the middle of and a work colleague of mine affectionately called this office "The Box". The pictures you see change on the top of the page have all been taken by me from places I have visited in travels around Australia or elsewhere.
About Me
My name is : Greg Bourke , Born in Sydney grew up in the country town of Griffith NSW. Came to Canberra in the mid 70's, married and have lived there ever since. Like most people I have multiple interests. One of them being keeping this domain active which is many years old and started not long after the internet first became available to everyone. My interest in all things Space led to the name of the domain plus that I live in Australia which we often abbreviate as OZ. Had I taken more time to think about the name I may have been a touch more imaginative however I have kept it ever since as it gives me a permanent email address. In the early days this was important as I was changing ISP's like clothes looking for a reliable connection. Things I like are listed below:
Sports
In my younger days I loved Basketball and played that half my life. Now I enjoy bike riding ,walking , golf and lawn bowls. Not that I am really good at any of them but enjoy being on a scenic golf course more than the golf. The walk around is more fun than hitting the ball. Still like my cars as well, always have them optioned up, not for performance but for the music and perhaps just a small touch of bling. Most of all I love driving with my favorite selections on a digital device.
Computers & Gadgets
I have had an interest in computing since the early 80's starting out with a little Sinclair ZX80 then an Amstrad progressing to an Apple II followed by PC's ever since. I just loved the concept of being able to create something out of nothing, that fascinated me and while I was very much constrained not being in the genius category I loved creating programs. Some simple , others more challenging. As technology advanced it seemed I was forever on the upgrade path. Always looking for some wiz bang software that was better than the one I used previously. Joining a computer club during those pioneering days provided a chance to brush shoulders or meet with some famous people along the way. These days I consider myself in tech overload with numerous PC's and tablets across all operating systems.